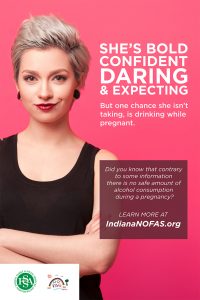 Earlier this year, Indiana NOFAS ran a very successful #JustSoYouKnow video campaign on social media. Over the course of several months, our PSA video appeared roughly 800,000 times with over 365,000 views in Indiana across Facebook, Youtube and Instagram. This was the first time such a campaign was run in Indiana to raise awareness of the risks associated with alcohol consumption during pregnancy.
Building on that successful campaign, Indiana NOFAS is launching a print campaign that includes the poster below. The poster will also be run in ads across Facebook and Instagram as part of our ongoing outreach and awareness efforts.
Please feel free to share, print and post the poster. Crowd-sourcing is a great way to get the word out!
Both of these campaigns are funded by a grant from the Department of Mental Health and Addictions (DMHA), under the Indiana Family & Social Services Administration (FSSA).