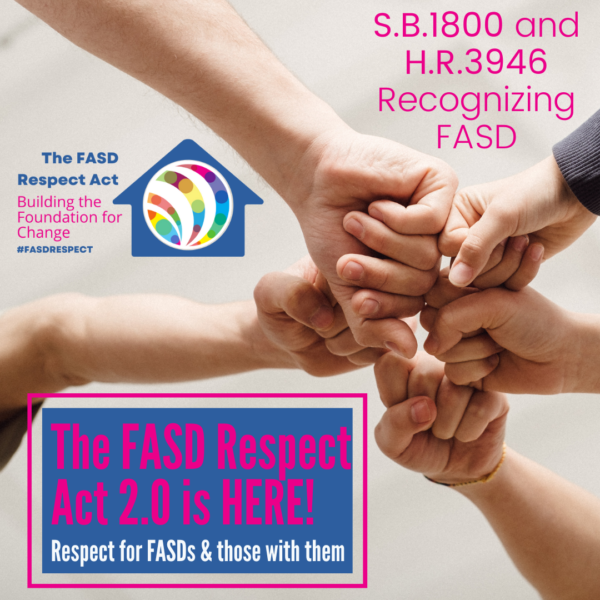 FASD United is thrilled to announce that Senators Murkowski (AK) and Klobuchar (MN) along with Representatives Bacon (NE) and McCollum (MN) have reintroduced the FASD Respect Act as S.1800/H.R.3946.
What does the bill do?
While smaller than the FASD Respect Act introduced in the 117th congress, The FASD Respect Act 2.0 carries no less of a punch!
This legislation: 
Reauthorizes federal FASD programs by directing the Secretary of Health and Human Services to establish or continue a comprehensive FASD prevention, identification, intervention, and services delivery program which  may include:
Educational and public awareness programs targeting professionals in systems of care
Research on FASD as appropriate
Building State and Tribal capacity for the identification, treatment, and support of individuals with FASD and their families.
Establishes Fetal Alcohol Spectrum Disorders Centers for Excellence to build local, Tribal, State, and national capacities to prevent the occurrence of FASD and other related adverse conditions, and to respond to the needs of individuals with FASD and their families.
Targeted Programs:  
Initiating or expanding diagnostic capacity
Developing and supporting public awareness and outreach activities
Acting as a clearinghouse for evidence-based resources on FASD prevention, identification, and culturally aware best practices
Disseminating ongoing research and developing resources on FASD to help inform systems of care for individuals with FASD across their lifespan.
Increasing awareness and understanding of efficacious, evidence-based FASD screening tools and culturally- and linguistically appropriate evidence-based intervention services and best practices across systems of care
Improving capacity for State, Tribal, and local affiliates dedicated to FASD awareness, prevention, and identification and family and individual support programs and services (technical assistance provided by FASD Center of Excellence).