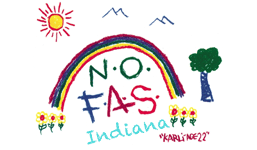 Indiana NOFAS is excited to announce the re-launching of our website at www.indiananofas.org. Information is more accessible and site visitors will have an opportunity to share their story, connect to other families living with FASD and ask questions.
We've also established our online Community Resource Directory of articles, research, training and other information. We are working to grow our list of FASD friendly providers around Indiana.
Indiana NOFAS (INOFAS) is an affiliate of the National Organization for Fetal Alcohol Syndrome. Although sharing the risks of prenatal exposure to alcohol has been the niche of NOFAS, the official mission, vision and purpose statements include substance and other substances know to harm fetal development. Speakers from INOFAS share with educators, policymakers, providers, families and the public at large the long term effects harmful substances can have on individuals. They also provide appropriate interventions for those who have been effected.
INOFAS is a 501(c)(3). Donations can be made on the site.