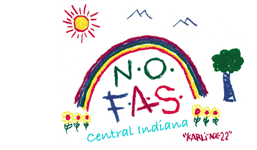 Fetal Alcohol Spectrum Disorder 101
A no-cost learning experience for parents, caregivers, policy-makers, professionals, and more
Are you a parent, caregiver, or service provider to a child who has trouble seeing the connection between choices and consequences, has difficulty with age-appropriate attentiveness, continues to make poor choices no matter how much appropriate instruction they receive, and who struggles to hold it together at even the smallest disruption of routine? Could prenatal alcohol exposure be a factor? If so, you are why FASD 101 exists!
You don't have to face this alone. Join us, and learn skills that can help you mitigate common, problematic behaviors in everyday situations.
The Indiana affiliate of the National Organization on Fetal Alcohol Syndrome (INOFAS) is presenting FASD 101, an interactive 6 hour workshop to heighten awareness and understanding of FASD. You will learn how prenatal alcohol consumption can affect a child in utero, common disorders on the FASD spectrum and their symptoms, and positive interventions for common problematic behaviors. You will also receive a review of prenatal alcohol interventions that positively impact prenatal alcohol exposure and the number of children born on the FASD spectrum. You or your organization can also access one-on-one guidance and technical assistance from INOFAS to help you incorporate these interventions into your programming.
FASD 101 participants will earn 6 CEUs from the Indiana Credentialing Association of Addiction and Drug Abuse (ICAADA).
FASD 101 and the subsequent technical assistance for implementing prenatal alcohol interventions is provided at no cost to participants through a grant from the Indiana Division of Mental Health and Addiction.
Thank you to our sponsors:
2019 Training Options
Registration links will be added as they become available.
Indianapolis
May 20th 9am-4pm
Southeast Community Center
901 Shelby St., Indianapolis, IN
REGISTRATION LINK
Batesville
May 30 9am-4pm
Ivy Tech
FLYER/REGISTRATION INFO
Elkhart
June 13 9am-4pm
Elkart Correctional Complex
REGISTRATION LINK
Evansville
June 17 9am-4pm
St. Vincent Hospital
REGISTRATION LINK
Fort Wayne
July 10 9am-4pm
MHA Northeast
REGISTRATION LINK
Indianapolis
July 15 9am-4pm
MHAI Yellow Rose
REGISTRATION LINK
Indianapolis
August 23 9am-4pm
MHAI Yellow Rose
REGISTRATION LINK