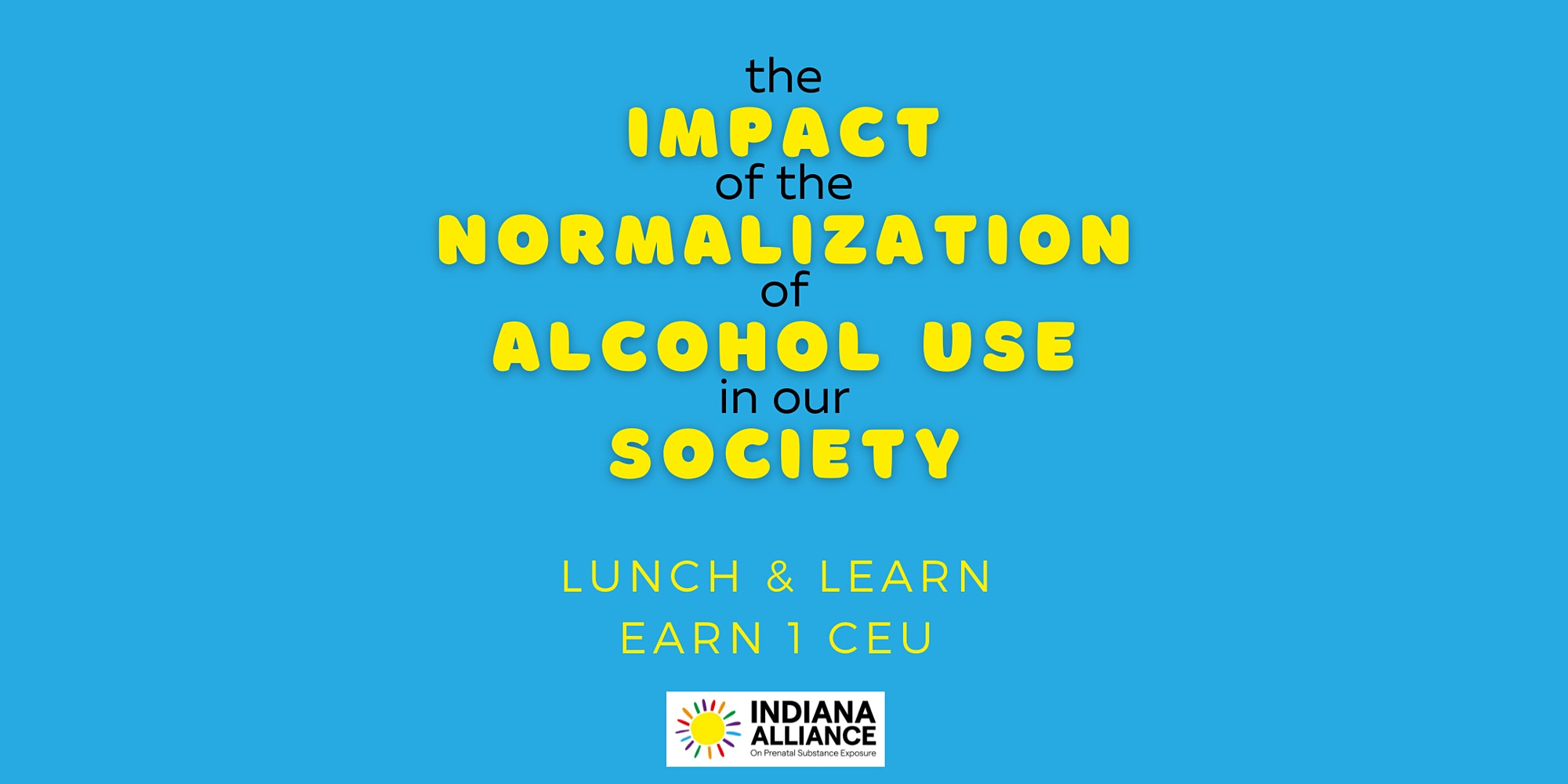 This free lunch and learn interactive workshop is designed to explore & address how the normalization of alcohol can have life-long impacts.
Indiana Alliance on Prenatal Substance Exposure (formerly Indiana NOFAS) presents: The Impact of the Normalization of Alcohol Use in Our Society
Let's face it. We're all exposed to and potentially influenced by what we see on social media. Individuals who are pregnant or who can become pregnant are no exception. Social media memes, Gifs and silly videos make it harder to discern fact from fiction when it comes to alcohol consumption during pregnancy. Misinformation mixed with humor about alcoholic beverages increased during the pandemic, fueling the existing "wine mom" culture.
Alcohol has been touted as a normal way to manage stress during these unprecedented times and we have seen a shift in state and local policies that increase access to alcohol, supporting the normalization of alcohol use in our society.
All of which create a recipe for unhealthy drinking behaviors that can lead to prenatal alcohol exposure and have life-long impacts known as Fetal Alcohol Spectrum Disorders (FASD).
Please join Amy Hendricks from Proof Alliance NC for an interactive presentation as we explore these concerns and discuss ways to address normalization in your community and state.
Training provides 1 CEU for all who complete the training.
MHAI Training Institute provides CEU for the following:
Addiction Counselors
Social Workers
Marriage & Family Therapist
Mental Health Counselors
Certified Peer Recovery Professionals (CAPRC, CARC, CHW/CRS, CHW, CCHW)
Our Presenter
Amy C. Hendricks is the FASD Prevention and Training Coordinator for Proof Alliance NC, a program of The Arc of North Carolina. Amy has over 30 years of experience deeply rooted in the field of public health and prevention and is the recipient of the Alcohol and Drug Council of North Carolina's Prevention Pioneer Award in 2021. Amy provides education to the professionals who work with individuals of child-bearing age about the importance of preventing alcohol-exposed pregnancies and understanding the lifelong impacts of Fetal Alcohol Spectrum Disorders (FASD). In her spare time, Amy creates funky art for non-profit fundraisers, enjoys hearing live music with her husband and is the parent of two amazing sons!
Our Presenter
This lunch & learn will be provided via Zoom (www.zoom.us). A link will be sent via email when you register.
Please visit https://inalliancepse.org/ for more information on fetal alcohol spectrum disorder (FASD) and fetal alcohol syndrome (FAS).