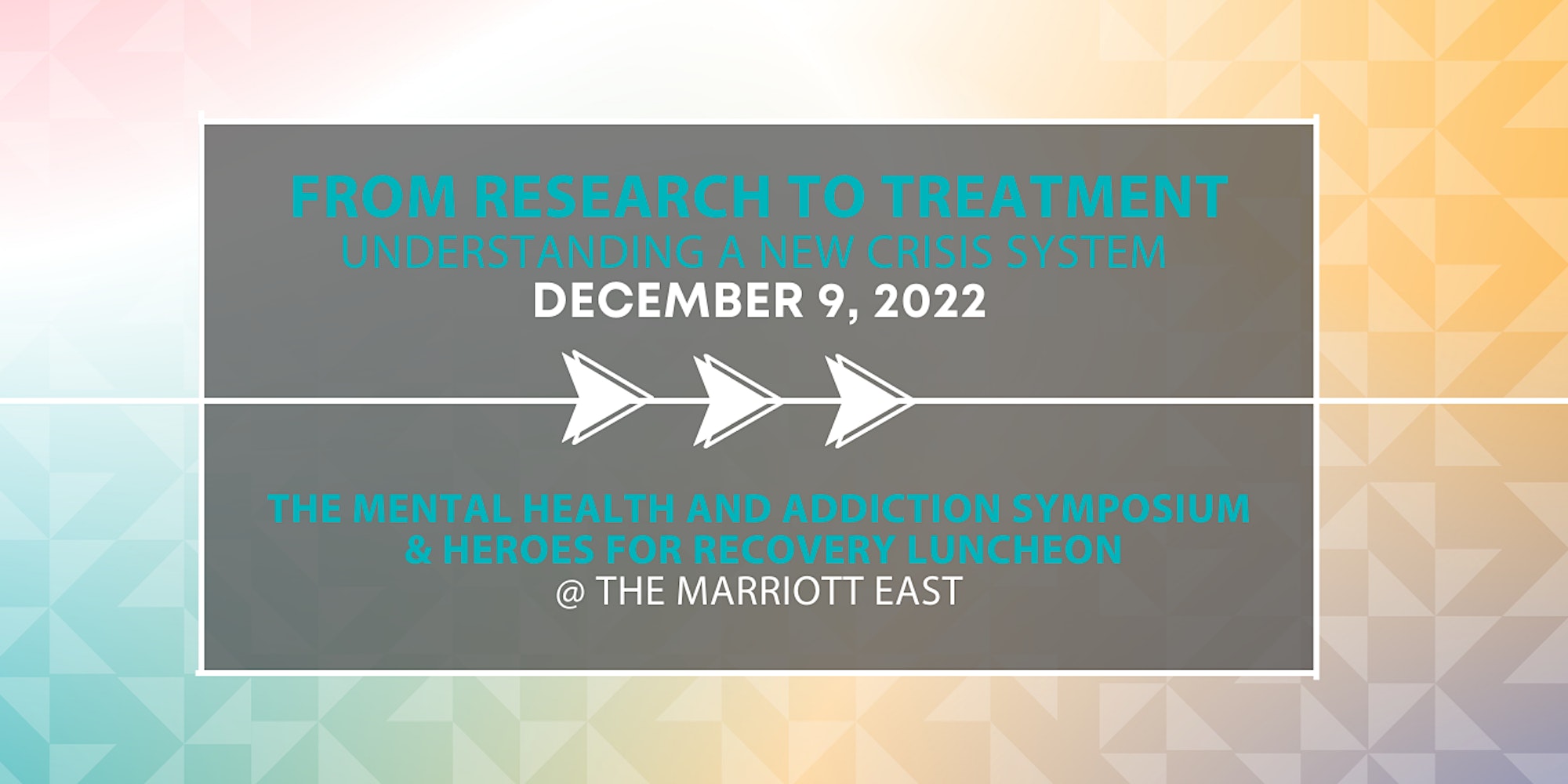 The 2022 MHAI Annual Symposium – 'From Research to Treatment: Understanding the New Crisis System'
View the agenda HERE
This year, Mental Health America of Indiana will be hosting the annual Mental Health and Addiction Symposium in conjunction with the Heroes for Recovery Luncheon at the Marriott East and will also be streamed virtually! We are expecting well over 500 people to attend this signature—and now hybrid—event!
As we begin to build a new crisis system in Indiana, we must recognize the growing gap in funding for mental health and addiction programs and services in Indiana and across this country. Behavioral health stakeholders must respond by re-inventing old strategies and creating new and innovative ways for our Hoosier community to become even more involved in our work and mission.
Stress, anxiety, grief, depression, suicide and addiction are affecting many Hoosiers across the state. There has never been a more pertinent moment in time to help Hoosiers living with mental health conditions and addictive disorders than now.
The Annual Mental Health and Addiction Symposium will include workshops that are focused on research findings in Forensic Treatment, the final report on the Indiana Behavioral Health Commission, and a special presentation by the Lieutenant Governor, Suzanne Crouch.
Join us as we discuss Research to Treatment: Understanding the New Crisis System.
The Annual Symposium is hosted in partnership with the Indiana Division of Mental Health and Addiction, and with the Indiana University Department of Psychiatry. We thank them for their support!
CEU's:
Receive the following Continuing Education Units:
Continuing Education Credits
o CLE/NLS Credit – 5.0 CLE/ 4.0 NLS
o CEUs for Social Workers, Addiction Counselors, Marriage & Family Therapists & Mental Health Counselors – Up to 5.0 CEU
o ACPE Credit – 5.0 contact hours
o CME Credit – Maximum of 5 AMA PRA Category 1 Credits™
o Law Enforcement Training Board (LETB) Credit – Up to 5.0
o Mental Health Counselors – 5.0 CEU
o CEU for ICAADA Certifications – 5.0 CEU
o Community Health Workers – 5.0 CEU
o Certified Recovery Specialist – 5.0 CEU
Receiving Credit: All attendees seeking continuing education credits for this event are required to complete an event survey in order to claim their credits.
Scholarships are now CLOSED.
This year's Symposium will also integrate our annual Heroes for Recovery event, which will be hosted during the lunch hour at the Symposium.

Heroes for Recovery is Mental Health America of Indiana's annual recognition program that celebrates the dedication and commitment of those that truly promote recovery of individuals in their ongoing treatment of serious and persistent mental illness and addictive disorders. Our program celebrates these Heroes and their families.
Each nominee will be recognized with a congratulatory letter and an invitation to the program. A selection committee made up of our partner organizations will select exemplary Heroes to be recognized during the December 9th, 2022 Mental Health and Addiction Symposium, Heroes for Recovery Luncheon.

This year's symposium is being organized in collaboration with our coworkers at the MHAI Stanley W. DeKemper Training Institute!
Exhibit with us! To exhibit at this year's Symposium, please use this LINK