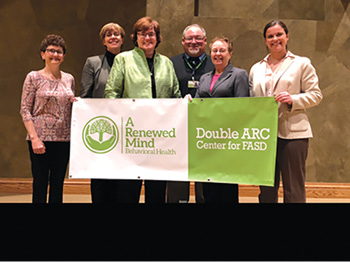 Toledo, Ohio — Double ARC, a local non-profit organization that has been serving children with Fetal Alcohol Spectrum Disorders (FASD) for 25 years, recently merged with A Renewed Mind.
This will allow families with children or teens with FASD to access a comprehensive continuum of care through one organization. The newly named Double ARC Center for FASD is a special line of service under A Renewed Mind. It offers diagnosis and treatment of children and young teens who have been prenatally exposed to alcohol and may be dealing with various learning, behavioral, and cognitive problems.
Double ARC's team of medical professionals includes a developmental pediatrician, neuropsychologist, speech and hearing therapist, and occupational therapist. Each team member assesses the child after reviewing his/her medical and school records. The professionals at Double ARC meet with the parents or guardian to understand specific issues with the child. Then a comprehensive medical summary report is provided to the parents along with recommendations for additional help and resources. A diagnosis is important to qualify for State-funded services and to fully understand the cognitive strengths and deficits of their child.
A Renewed Mind, which specializes in mental-health treatment, will be involved in providing counseling to parents and the child. Most children with FASD have other disorders such as ADHD and will benefit from the counselors at A Renewed Mind. Sr. Suzette Fisher, co-founder of Double ARC and program director of the Double ARC Center for FASD, will also work with the child's teachers and school on Individualized Education Plans so the child is successful in school.
Double ARC also is introducing a new video series called Triumph Today for parents. There are 16 separate topics that parents need to understand in parenting a child with FASD. The video series was made possible by a generous grant from ProMedica along with the Maumee Rotary, the Perrysburg Rotary, the Walter E. Terhune Fund through Key Bank, and the Anderson Foundation. The videos will be available on their website, www.doublearc.org, in mid-May for purchase.
An online parent support group is an important free resource for parents. It is offered monthly, and those in Northwest Ohio can attend at Double ARC offices at 5164 Monroe Street or all can log on via their computer, tablet, or phone. Already parents from many states have joined in the conversation as Sr. Suzette and Brianna Megyesi, counselor, provide insight and direction.
The mission continues for the Double ARC Center for FASD and is brighter than ever with the merger with A Renewed Mind.
For more information, please contact Sr. Suzette Fisher, 419-479-3060.❦
Credit / Sources
This article appeared originally on the Healthy Living News website.