The Society of Special Needs Adoptive Parents (SNAP), a non-profit, provincially-funded organization in British Columbia, produced the first edition of this booklet in response to many requests from parents and professionals caring for children affected by Fetal Alcohol Syndrome (FAS) and other alcohol-related birth defects (ARBD, ARND).
The booklet covers the following topics:
Definitions and Facts
Common Manifestations
Common Misconceptions
Information Processing
Structure, Supervision, Simplicity, Steps and Context
Parenting Suggestions
Guidelines for Daily Living
Special Considerations for Infants
Special Considerations for Adolescents
Parents' Needs
Assessments and Referrals
Talking to Your Child with FASD
Resource List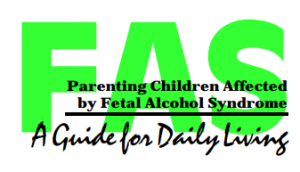 Click on the thumbnail to download PDF
Download the Daily Guide for Living PDF
Credit / Sources
Editions of this booklet were published by the Ministry for Children and Families (MCF) and originally by The Society of Special Needs Adoptive Parents (SNAP). Information on contact them is including in the forward of the booklet.