We often get questions about the safety of breastfeeding and various substances or health conditions. Check out this easy infographic about which substances may continue to be used by a breastfeeding mother, and which health conditions should be considered when breastfeeding.
The following substances or conditions are included in this guide:
Acetaminophen + oxycodone (Percocet)
Buprenorphine (Subutex)
Buprenorphine + Naloxone (Suboxone)
Caffeine
Lorazepam
Methadone
Cannabis
Hepatitis B
Hepatitis C
Herpes, inactive or active with no lesions on the breast
Nicotine
Cocaine
Heroin
HIV
Methamphetamine/Misuse of Opioids
This infographic was developed by the Indiana Perinatal Quality Improvement Collaborative (IPQIC), an initiative of the Indiana State Department of Health's Division of Maternal and Child Health (MCH). For more information, go to https://www.in.gov/laboroflove/762.htm.
**This list is not meant to imply absolute safety of any medication while pregnant or breastfeeding**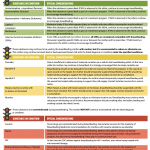 Credit / Sources
Adapted by IPQIC with permission from Magland, Eliza RN, IBCLC; Migone, Celina MD; Lembeck, Amy D